Odisha 4k GEO Services
Odisha 4k Geo portal provides availability of data sharing framework; Standardized, Structured & Updated Geo-spatial Data infrastructure for seamless integration of data of multiple-sources; Standard mechanism for ensuring Data integrity. Technology for dynamically updating of real-time data and live feeds and finally Geo-coordinated location-based data and GIS-based Maps for effective Decision Support.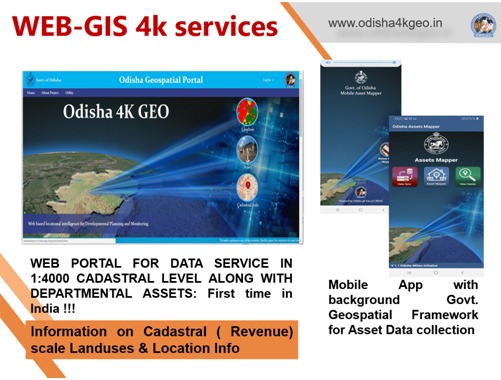 The portal module "Landuse & Landcover" provides opportunity to users to access plot level cadastral scale map and data as per Administrative hierarchy i.e., District, Block, GP and Village. The maps can also be viewed with satellite data and cadastral (Revenue) maps in the background.
The portal module "Asset" provides facilities to view the departmental assets (to be collected through the Mobile App – Odisha Asset Mapper) as per Administrative hierarchy basis and department wise Data viewing.
The portal module "Odisha KYL" provides facilities to view the locational Intelligence Data as per click on map or mobile screen such as Administrative locational data like District, Block, GP, Village name, Forest name, PS/Thana Name, Khata number, Plot number, Latitude and Longitude etc.
Odisha 4k GEO services provides
Structured storage,
Multi-source Data Integration,
Web-enabling of Data,
Mobile App for Data capturing,
Data analytics,
Query module creation,
Dashboard based information visualization,
Net based data dissemination, WMS/WFS services and,
On-demand Decision Support provisions
Mobile Apps using Odisha 4k GEO infrastructure
Under Odisha 4k GEO, it is decided now to generate a module ASSET to capture Departmental Asset Data as per the requirement of State Finance Dept. Asset module will be a Data analytics-based web-based services through integration of ORSAC's OSDI and Odisha 4k GEO Validated GIS Data layers with Departmental Asset data.
The Odisha 4k GEO infrastructure is now used in Agri-GeoDSS project of FE & Agrl Dept., ODIIS project of Dept. of Water Resources, GOPLUS of Industries Dept., Odisha Police Station Geodatabse of Home Dept. and services are used on operational basis by Forest & Environment Department for Forest, Kenduleaves & Wildlife Management.
Odisha KYL (Know Your Location)
MoM of the meeting held on 22-11-2019 - All Secretary Mtg at State Secretariat
Chief Executive, ORSAC presented the activities and services of ORSAC over 35 years, to support Development Planning and Monitoring, using Remote Sensing, GPS & GIS. The works of ORSAC was highly appreciated by Chief Secretary Odisha and he advised all departments to utilize the varieties of customized Geo-Informatics services of ORSAC for Development Planning and Asset Mapping purpose.
All departments are advised to Geotag their assets using the Revenue Cadastral Map enabled (4K-Geo) Mobile App "Odisha Asset Mapper" made by ORSAC, developed under the guidance of Finance Department Odisha. Departments can use the customized version of Odisha KYL (Know Your Location) which is also Cadastral Map enabled for Data Collection and Incident reporting purpose. ORSAC is advised to make a mobile and web app dashboard fetching all relevant data department wise from their existing web portals.